I have a Top 1% SSI score and you can, too.
Here's why you should care, especially if you are in sales or marketing.  You make a living generating leads and trying to reach prospects, right?  You want them to trust you?  Your LinkedIn Social Selling (SSI) Score is your indicator of your personal brand and what that says to your prospects.
In my post, Social Selling is Not a Magic Potion, I spell it out, citing Keenan, who says, "Digital Anonymity creates distrust." The very fact that my peers have scores in the 20's or even the 50's is shocking to me. This is 2017! We can't hide from the Internet and our prospects WILL look us up before they engage with us.

What is rated in the LinkedIn Social Selling (SSI) Score?
SSI is an algorithm that LinkedIn came up with after analyzing a group of top performing sales leaders and the results they achieved. The result is a score between 0 and 100. The formula for the LinkedIn SSI score is based on the 4 elements of social selling:
Establishing your professional brand
Find the right people
Engage with insights
Building relationships
Each of these elements reflect aspects that will help you build your own brand and build relationships with your partners, customers, prospects, and community.
Breaking it down, you can see that in my score, I focus most heavily on building relationships. That means I connect with a steady stream of people each month and personalize my invitations, which earns me a high number of invitations that are accepted.  Having analyzed the algorithm since the Messaging app was improved, I've noted that there seems to be some "points" given for use of the messaging app.  And with the new Active Status feature just released, it makes it even easier to start a casual conversation using Messaging.
My connections are across a broad range of industries and titles. For a sales rep targeting certain titles in specific industries, you'll see higher scores for "Find the Right People". I also believe that the only way to get those extra 4 points in "Establish your professional brand" would be to regularly post articles.  However, as you can see, it's possible to get a Top 1% score without that.
Here are some common questions I hear about SSI Scores.
Do I need to be a LION?
Does it matter how many connections you have?  I have a decent size network at nearly 2,300 connections, but by no means is that even close to the connections of my peers who are LIONS (LinkedIn Open Networkers) who brag about their 20,000 or 30,000 connections. But does that make a difference? No. Go for quality over quantity.
Set a goal to make at least 501 connections if you don't already have that many. You should have enough connections to establish your network so you can more easily research and connect with others.
I connect with people in my region as well as outside of it, so that I've got a national and global reach since my next prospect isn't likely to be next door.
I accept most invitations if we have common connections or interests, they send a personalized invite that isn't salesy, and their profile looks legit. A word of caution, do check profiles before accepting invites because the number of trolls and fake profiles has grown.  But that doesn't mean you have to avoid LinkedIn all together.  And if someone turns out to be creepy or fake, just disconnect from them and report them if needed.
How to remove a LinkedIn Contact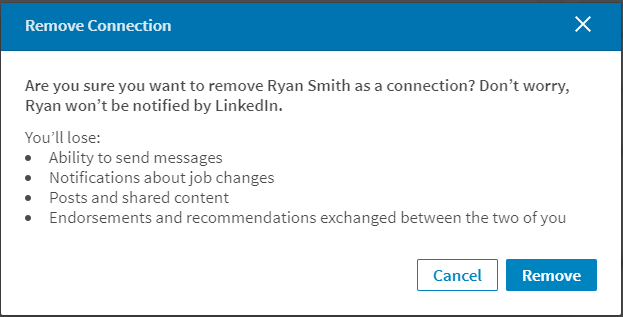 Should I use automated scheduling on LinkedIn?
No!  I personally don't advocate auto-posting or scheduling on LinkedIn using tools. In fact, recently LinkedIn disallowed auto scheduling updates and posts in groups to cut down on spam.
I recommend logging in at least once a day for a few minutes.  If you are using messaging, you will want to do that, check for invitations and reply messages.
How can I improve my prospecting?
You should look at a profile before you connect or call them (yes, that does get you a better response!)  Be authentic and actually have a conversation in real time.  You only need about 15 to 30 minutes a day to devote to LinkedIn; break it up into 3 short segments throughout the day.  Studies show a lot of people engage during the commute hour, and lunch time.
Do I need to write articles?
As I mentioned above, I am not posting long form articles (or blogs) on LinkedIn currently.  And my score shows that it's not essential to score in the top 1% –  but it could help.  "Engaging with insights" is my lowest score of the four areas.   I do believe that posts that receive no engagement could have a negative effect so don't just do it to do it without a plan for consistency and quality.
I schedule myself time to comment on other people's articles and posts at least 4 times a week. A tip: if you want extra engagement, when you comment on a post an article, tweet out the author's post as well.  It won't get you more SSI points but it will make you more friends.
How do I start improving my SSI score?
First, update your LinkedIn profile, get a headshot, and fill in all of your sections.  Create a compelling headline.  This is your "ad" what people see when you comment or send them an invite.  Then start small.  Follow some people, and so some "likes" before jumping in.  Keep your comments thoughtful, non-salesy, and non-political. Always read articles before you "like" or comment.
Check out your LinkedIn SSI Score progress weekly as well as "Who has Viewed Your Profile". Are you getting look backs? New looks?  Those are great people to send out an invitation to.
How long does it take to improve my SSI score?
You can boost your SSI score by investing just 15 to 30 minutes a day. And you'll see growth within a week. That's a small investment to increase your personal brand visibility, build trust, and grown your connections. Check out your score here.
Oinkodomeo  provides sales consulting and sales enablement process improvement, social selling, training and coaching built on a foundation of sales and marketing alignment. We work with and evaluate emerging sales enablement tools and content management solutions.