There has been much discussion about Solution Selling (a sales process developed in 1975 and last updated in 2003). Many pundits including Harvard Business Review have declared Solution Selling to be "dead". Personally, I always felt that the core concept of addressing a client's pain using a consultative approach was a valid one; and while I like many elements of The Challenger Sale, to me, it's not a 100-percent-of-the-time type of approach. As I've been working on the content for my Social Selling workshop, I set out to find what sales methods work best on today's buyer.
Having been closely working with enterprise sales teams since 2009 I already knew:
B2B buyers have access to the internet and social media and they consume a lot of content and talk to peers during the buying process
B2B buyers are harder and harder to reach on the phone
The purchasing department is a lot more involved in the buying process
There has been a big increase in use of the RFP in the selection process (in everything from technology to public relations)
A lot of RFP down-selects were getting stalled or dying outright
I've reviewed a number of studies and read several books released in the past few years, and the one that has addressed all of these issues and more is The Collaborative Sale: Solution Selling in a Buyer Driven World.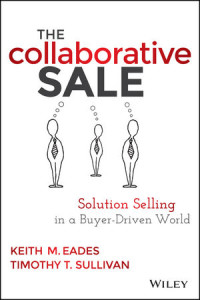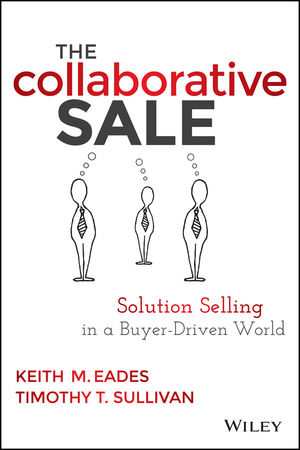 Just released this past spring, The Collaborative Sale by Keith M. Eades and Timothy T. Sullivan, is an updated take on Solution Selling that's adapted to the new buying process, or what the authors are calling "Buyer 2.0". It also brings in elements of the Challenger Sale through engaging with the buyer early on to help them better define their problems.  Eades and Sullivan acknowledge that not only does the buyer have access to more information, but that their mindset has shifted, more decision makers are involved, and that the whole buying process has evolved.  Buyers today are more risk adverse so that also impacts how they "shop" and buy. They also touch on the impact of the Millennial in the workplace.
That certainly means the seller has to rethink their approach. What I see happen is that with all the content out there, is that a buyer can end up self-diagnosing incorrectly (like trying to decide if you have the flu or Dengue fever by going online instead of to a doctor) so what happens is then when they put out an RFP and DON'T talk to a sales rep first then that whole process stalls or even dies on the vine because they misdiagnosed their problem and instead of aspirin, they need a special antibiotic.  I used to INSIST that a sales rep talk to a buyer BEFORE they'd fill out an RFP and a big part of what the sales development reps that I worked with did was LISTEN for signs that a company was thinking about going to RFP. And then they reached out one on one.
The authors have done an excellent job describing how the sales process needs to evolve to match the new buying process. Get the book. Updated your sales process to meet the needs of Buyer 2.0.
And as far as their take on social selling? While they don't use the exact term "social selling," their sales personae micro-marketer uses social media tools for one-to-one engagement with the buyer during the sales process.