I hear quite a bit of grumbling these days from my sales coach colleagues about the dreaded LinkedIn "Pitch and Pounce" (thanks Mike Kunkle for that memorable term!). What's driving this trend we wonder? I certainly hope this isn't an approach that's being taught by sales or social selling or so-called "LinkedIn experts" because it goes against good selling methods. All this gets me thinking – what happened to the LinkedIn SSI score for sales? Is it still being used as a guide toward good LinkedIn prospecting? The LinkedIn SSI score for sales was supposed to help guide sales reps to authentic engagement and better relationships. Has that improvement been realized? My answer: yes, and no.
Is using LinkedIn for B2B prospecting a viable option today?
Yes, the LinkedIn SSI score for sales is still relevant
First of all, LinkedIn is still the best professional social platform with professionals signing up to join LinkedIn at a rate of more than two new members per second.
There are 590 million LinkedIn Users and 260 million Monthly Active LinkedIn Users.
Source: LinkedIn Newsroom (December 2018)
Using the LinkedIn SSI score for sales should not be a forgotten fad, nor is it a vanity metric. There have been plenty of articles, studies and evidence that the four elements that make up a score all contribute to achieving more sales.
Establish your professional brand
Find the right people
Engage with insights
Build relationships
These are all solid goals that ANY professional should have, not just sales. Building your professional brand should be a singular goal of all professionals and that means all of you reading this should get an automatic 20 – 25 points if you are just doing that and nothing else. I would also argue that every professional whether in sales or not should be building relevant relationships.This is part of creating a path for your career. Don't just think in terms of prospects, think of alumni, colleagues, future bosses, partners, potential new hires. Your network is an important part of who you are past, present, and future.
How to incorporate LinkedIn into better prospecting
The Pitch and Pounce is certainly not going to result in lasting relationships if all you do is send connection invites and the instant you get an acceptance, you send your hard sales pitch along with a calendar link to the target can schedule themselves a time for a demo (or more pitch). In fact, you'll start to lose connections.
In 2017 I wrote a post that expressed my dismay at the average scores of my network peers (mostly entrepreneurs, sales and marketing professionals) which at the time was 23 and 54 respectively. 18 months later and the 23 has gone up to 26 and the 54 has not budged one iota. Nope.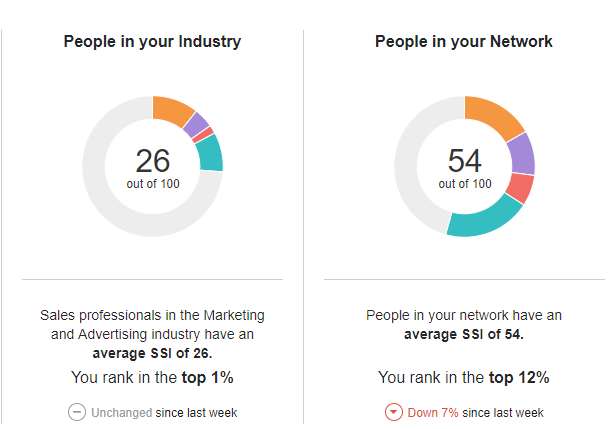 Why is that? For one, social selling isn't one and done. It takes time and effort. You must be authentic. Connections won't be jumping to schedule themselves on your Calendly the second they meet you. You are better off to stop trying to connect with everyone on LinkedIn and preserve your reputation. On the other hand, it's not THAT hard and a few minutes of your time each week pays dividends in your career and help with prospecting too, if done right.
Here's how you can use LinkedIn in 2019 that won't take a lot of time or effort and maintains your reputation.
Update your profile picture. Make it a New Year's resolution to put on a nice sweater and take a new headshot. Your picture should be from the last 12 months and be just of you alone – no friends, kids, pets, automobiles, or planes. Today's camera phones make it easy and even a selfie can look professional.
Add a summary. Tell us what you do and why you like doing it.
Update your experience. Are you actually linked to your company's showcase page? Put a little blurb in about what you do in your role.
Take a look at your skills. If your skills are things you did in the 80's it's time to drop those and add what's contemporary.
Share some of the posts your marketing team puts on the company page. Even once a week is fine.
Read EVERY profile before you send anyone a connection invite.
Personalize every connection invite you send.
Start by getting your SSI score and making note of it. To get your LinkedIn SSI Score for Sales (or anyone else is welcome too!) click here. Jot it down and then check on it after you complete 1 through 7 above. See it go up a little? Keep up the authentic engagement throughout the year and you'll see it continue to rise. You don't need to reach 70 by Friday but I'd like to know that anyone reading this can get over 54.
Go ahead and let me know how you are doing. You can connect with me on LinkedIn and let me know or ask me a question: https://www.linkedin.com/in/kglass/ Just be sure to personalize your invite 😊
Related Reading:
My most recent article How to Improve Your LinkedIn Social Selling Index Score
Tips on how to improve your score in Social Selling is Not a Magic Potion
Get your LinkedIn SSI Score for Sales here.
About the Author: Kathleen Glass is a strategic advisor for WyeComm, a Stagwell Company, and founder and CEO of Oinkodomeo, a B2B sales and digital marketing agency. Follow on Twitter @KathleenGlass or connect on LinkedIn.