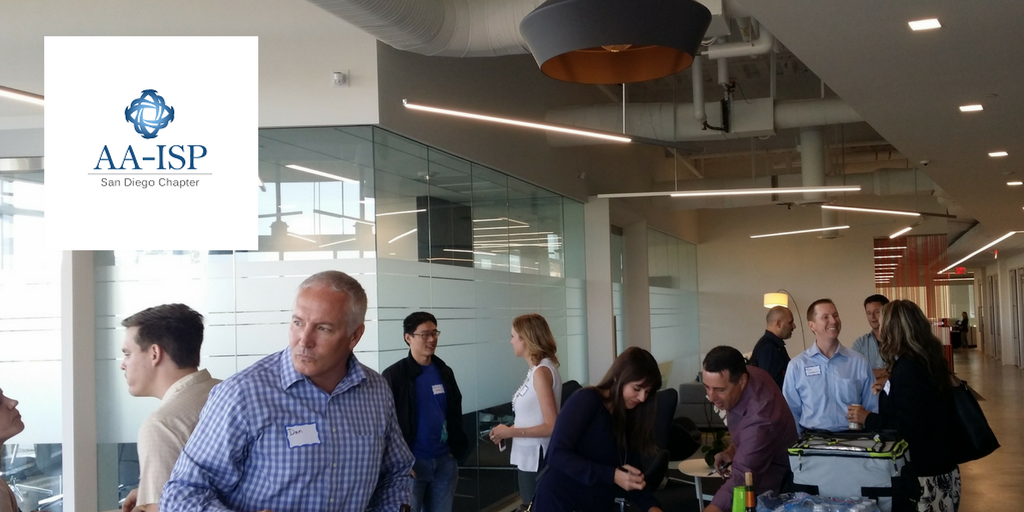 Recently I had the honor and privilege to moderate a panel of San Diego Sales Enablement experts. Sales Enablement is a growing topic of discussion as companies look for ways to increase revenue or make sales more effective without adding headcount.  However, it's still a very new topic and most companies are at the ad hoc stage, or have not yet thought about it in a formal way.
Our panel included representatives with leading companies.
Catherine Bonin, Sales Enablement Manager, NXP Semiconductors
Catherine recently joined the company and has a mission to combine two sales teams totaling 1500 individuals, standard processes and increase the efficiency and effectiveness of the team.
Alice Ewell, Director, Customer Success, Seismic Software
Alice has a bird's eye view of companies who are implementing Seismic Software's sales enablement platform as part of their initiative.
Joe Archer, Director of Sales Operations – CRM and Sales Technologies, Teradata
Joe recently joined Teradata to lead sales ops. Teradata is investing resources and infrastructure to build a world-class sales destination to attract and retain talent.
Stephan Brisard, Director, Demand Generation, ESET
Stephan leads the demand generation team at ESET, driving innovation and automation for both direct B2B and B2C and channel sales. He focuses on sales and "channel enablement".
What is sales enablement?
Our panel came up with this definition of sales enablement: The people, process and technology that focus on driving sales effectiveness and efficiency.
It is about making your sales teams better at what they do.  Joe pointed out that it's important to have sales management enablement for front-line sales managers as well as reps.
Joe: Ongoing professional development continuously improves sales savvy—and that has to begin with front-line managers. Managers are a key lever in the organization, making them a critical part of the sales enablement process, as it drives sales culture.
The panel agreed that sales enablement is much more than just training.  While onboarding is a key part of enablement, a true sales enablement program goes well beyond that.  It's an ongoing optimization process for managers and for sales.
They also pointed out that sales enablement should include customer success, especially if they carry a quota and are responsible for upsell or renewals.
Find out where you are on the Sales Enablement Journey. Download the Oinkodomeo Sales Enablement Maturity Model Guide.
How to measure sales enablement?
The simplest answer? Revenue goes up.
But there are levers behind that which can be tuned more finely.
Catherine benchmarked her team and will test improvement over time.  She brought in Beyond ROI and Sirius Decisions to establish the baselines for effectiveness and efficiency.  They also looked at top performers to learn what makes them successful, in order to turn that into a repeatable process for the rest of the team.  You can use those top sellers to become champions of the process to support adoption.
Alice talked about how sales enablement tools like Seismic are bringing completely new metrics to companies, such as being able to tie revenue to a particular piece of content.
Alice: Only about 5% of content gets used regularly
Stephan measures the impact of everything. He looks closely at who is using and looking at each piece of content to better understand it's value in the sales process.  Is sales using it? Is the channel using it? Is the customer downloading or registering for it.  Stephan advocates changing up your content frequently, optimizing for what's valuable and eliminating anything that's dated or not being used.
How big should your sales team be before you start thinking about enablement and who owns it?
While our panel consisted of companies with large teams, they agreed that it's ever too soon to start thinking about sales enablement as a goal.  In larger companies it is becoming more commonly a standalone function.
While it might seem logical that sales owns enablement, it can report into any number of places including Marketing, HR, Operations, Customer Success, and Product Management.  Stakeholders in enablement should include: Marketing, HR, Training, Sales Ops, Operations, Customer Success, and Product Management.
What are sales enablement tools?
Tools are important, but don't get dazzled by your tools.  Start with your process, and look for tools to support those.  Our panel named 8 essential tools, though admitted that it was hard to pick just a few. We've heard from AA-ISP research that high growth sales teams use an average of ten different tools.
A CRM – A robust CRM was agreed to be the must important sales enablement tool. Most of the panelists either use or are currently implementing Salesforce.com
Marketing Automation – Marketing Automation should be thought of as a sales enablement tool, and is no longer just the domain of marketing.  Marketing automation interaction should be visible to sales as well as marketing.
Dialing tools have become an essential efficiency tool for sales, particularly inside sales
LMS (Learning Management System) for creating content
SkillSoft eLearning Solution
Sales Enablement Platforms (like Seismic)
ON24 – Stephan found webinars to be his strongest tool so he's using the ON24 platform that gives him detailed info on engagement.
Sales Navigator PointDrive (author note: PointDrive was acquired by LinkedIn last year and it appears to be rolling this out but I have not confirmed it's fully rolled out)
This was a great start to the San Diego Sales Enablement discussion.  As the audience attested, most teams are still in a formative stage and have a ways to go before they are "formalized". We look forward to addressing this topic again in 2018. Stay tuned!
Thank you to our sponsors!
Our September Sales Enablement Event was hosted by Seismic Software and sponsored by Vonage Business and ConnectandSell.
About the AA-ISP San Diego Chapter
The San Diego Chapter  of the Association of Inside Sales Professionals (AA-ISP) launched in 2014 and won Chapter of the Year 2017.  We have participation from large and small companies in San Diego including recognized leaders such as Teradata, Illumina, Dassault Systemes, ServiceNow, iBoss, and TSIA.  Our goal is to bring together San Diego Inside Sales, Digital Sales, and Sales Enablement to raise the bar of professionalism of the inside sales role by sharing best practices and education. The San Diego Chapter meets 6 times a year. Chapter meetings are free to members and guests.
We also have an open San Diego LinkedIn group  for sharing, news, ideas and best practices across Southern California.