Reading the 2013 Internet Trends published May 2013 by Mary Meeker and Liang Wu, Kleiner, Perkins, Caufield, Byers is interesting and a little scary.  If I am not already, soon I'll be wearing the Internet. The truth of the matter is, the trend toward wearables means we will be doing just that.
The latest edition of the annual Internet Trends report finds continued robust online growth. There are 2.4 billion Internet users around the world, and the total continues to grow. Mobile usage also continues expanding rapidly. The online landscape is becoming more social and content rich, with expanded use of photos, video and audio. Looking ahead, the report finds early signs of growth for wearable computing devices, like glasses, connected wrist bands and watches – and the emergence of connected cars, drones and other new platforms. Get used to that idea – you'll be wearing the Internet.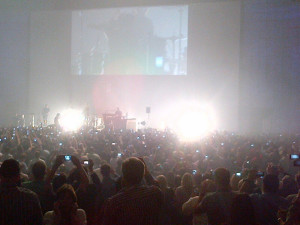 One of the examples Mary uses for our new connected world is how we used to "just" rock out at concerts, and as I recall, swaying and flicking our Bics. I was in a concert arena last week and this particular transformation was vividly apparent to me. I was fascinated by the people in front of me consuming thousands of megabytes of bandwidth, snapping away, capturing the concert in real time with their photos, video, and audio that they immediately uploaded to their favorite social site.
As a marketer, I look forward to thinking about how this new social, wearable, sharable Internet will further transform how we interact with one another and our customers. Oh, and I do apologize for the arcane reference. As further evidenced by the concert… no one worries about their "slip" showing anymore either.