If you have more than 30 sales reps and plan to add inside sales or grow your team in the next 12 months, you need to be thinking about building out sales enablement services. If you have more than 300 reps, your ROI for implementing a formal Sales Enablement Function this year will start to show dividends. If you have more than 700 employees, sales enablement is a must-have unless revenue numbers are not important to you.
If any of these seem like they are problems for you, you need sales enablement:
Onboarding and sales ramp up time is too long.
Your sales people complain that they can never find the content they need, and/or they are recreating their own content.
You have high sales rep turnover.
Your revenues aren't growing as rapidly as you want.
Breaking down the elements of sales enablement
The industry started out focused primarily on SECM or "sales enablement content managers" which had a primary purpose of making it easy for sales people to find the appropriate content at a particular point of the buyer conversation. In Aberdeen's 2016 survey, they found that 52% of respondents practice content-based sales enablement. But that's only part of the issue. Today, the definition needs to include training and coaching as well as content enablement. There were 2016 studies by both CSO Insights and Aberdeen that found that many companies just consider training as enablement. I see that quite a bit in reading LinkedIn profiles for trainers. So we are seeing companies looking at pieces, but not the whole of enablement.
This reminds me of the story about the blind men and the elephant. When each encountered various parts of the elephant – the body, tusk, trunk, leg, ear, and tail – each thought it was a wall, a spear, a snake, a tree, a fan, and a rope. There are actually two takeaways here, one is about taking advice from people who have not seen the elephant, in this case, sales enablement in true practice, and the second is that if you only view the parts, you don't get the real picture.
In 2015, Tamara Schenk at CSO Insights defined Sales Force Enablement this way: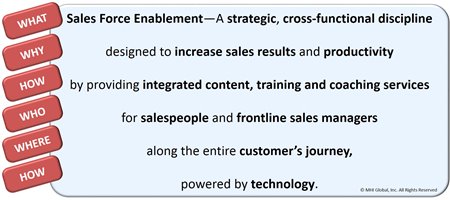 Source: CSO Insights
So here we go, these are the various parts of the sales enablement elephant.
Training / education-based sales enablement
There are several types of training that should be included. Many companies who think they are doing "training" are only doing one of these.
Product training
Sales training
Skills Training
Training or education platform
In the 2015 and 2016 CSO Insights Sales Enablement Optimization Studies, sales training was the most important sales enablement service, followed by tools. Training can have a tools aspect to it as well with training ranging from onsite annual training to webinars to e-books to advanced e-learning systems.
Content-based sales enablement
Appropriate content that's easily found, and that the customer engages with.
Sales-ready content
A method to find the content easily
A way to know if the customer consumed the content and tracking engagement
I want to reinforce a few points about content that CSO Insights covers in their blog.
Only 39% of all content that sales people need comes from marketing. The rest comes from other functions and stakeholder such as product, ops, finance and legal. So make sure that you are including all of these in your content enablement. A good content enablement system will not only ensure sales has what they need, when they need it, many will also tell marketing what the customer viewed or didn't view which will help hone the content offerings. One company I talked with found that short webinars were what was most viewed by their audience and adjusted their whole content strategy accordingly.
Technology-based sales enablement
Outside of the content enablement platforms, technology enablement includes CRM, Automation, and Tracking Tools in the MarTech or Sales Stack that increase efficiency and productivity and eliminate admin tasks. Aberdeen found that 40% of their respondents practice-technology based sales enablement. With the huge growth of sales-tech tools that include dialers, chat, calendars, research, list-building, social, analytics, tracking and more, in the past 48 months, I except that today this number is much higher and may be leading to rep fatigue.
That's not to say that tools don't belong in the sales enablement stack. They do, just be sure that you've given thought to integration and training, and have rep buy-in before unleashing a pile of new tools that could be add overhead to the process rather than make it better.
Coaching
Coaching should be considered separately from training as it is a different discipline.
Sales coaching is a developmental process that is the responsibility of the front-line sales manager, and should be designed to get the best out of their line reps. We consider it part of enablement because it increases the productivity and efficiency the rep. AA-ISP has covered the topic in recent summits, with clear evidence showing the number of hours of coaching per week ties directly to revenue.
Sales Process Improvements
Overlaid across all of of this must be sales process improvements. Without ongoing process refinement and optimization, this whole exercise is rather pointless. There should be a feedback look and period assessment of content, sales methods, and sales alignment to the buyers journey to make sure all of the pieces directly tie to revenue. All sales processes must be clearly laid out before automated by any new tools. For more on this, read our blog Why You Need a Sales Process to Increase Revenue.
What's the ROI on sales enablement?
Buyer beware. If the reader turns to a sales enablement tool vendor for ROI numbers, those will only include the numbers where their tool applies. Take that into account when reading vendor blogs or downloading their "calculators". For better insights, check out analysts or third party sites like CSO Insights, Sirius Decisions, Forrester or the Sales Enablement Society.
Please realize you don't have to do everything I listed above to start down the path of sales enablement.
Let's look at the types of savings you might encounter.
Hard Cost Savings
Reduced training costs
Reduced printing and shipping costs (brochures, training manuals)
Lower recruiting and onboarding costs
Soft Benefits
Increase in active selling time (approximately 30 – 50%)
Enhanced customer experience
Lower employee turnover
Bottom Line Gains: Enablement Delivers More Revenue
And of course, all of this will ultimately lead to increased revenues due to the quality and quantity of new deals that each rep will manage and close.
…this world-class segment outperforms all others regarding increasing customer retention rates (+5.8%) and sales performance (+23%), measured by various sales metrics –CSO Insights

Marketing teams with high visibility into content utilization see 33% more leads accepted by Sales. –Aberdeen, 2015

Companies with best-in-class sales enablement strategies experience 13.7% annual increase in deal size or contract value. –Aberdeen, 2013

All-in" sales enablement practitioners average a 56% greater growth rate in annual sales. –Aberdeen 2016
This is the year to get started with sales force enablement
It's never too soon to get started with enabling your sales force. If you don't want to go all in, start with one of the 3 main categories of sales enablement, establish baseline, and begin to measure your improvements incrementally from there.
One of the critical factors for Sales Enablement success is sales and marketing alignment. Find out if your sales and marketing aligned with this 2 minute quiz.
Oinkodomeo is a Sales and Marketing Agency. We focus on building a foundation for successful, customer-centric sales and marketing. We help B2B companies achieve business goals and grow revenue by mapping to the Buyer's Journey and addressing each persona's needs. We help with end-to-end marketing and sales processes; sales operations; sales enablement; playbook development; inside sales team development and coaching; social selling training using LinkedIn and Twitter, and appointment setting and cold calling techniques; lead generation; channel marketing; inbound marketing; content development; website development; RFP response planning; analyst relations; and branding.